WOMEN
The River Women's Ministry has four fundamental pillars that guide them:
Study: Opportunities to study God's Word are offered through Bible Studies, small groups and an on-going "Tuesday Morning Group" Service; Participate in outreach and serving opportunities as needs are identified.

Service: Women are encouraged to use their 'spiritual giftings' to bless the Body of Christ.

Support: Encouraging one another in their lives, from their walk with the Lord, to raising families, family crisis, having careers and professions to caring for aging family members.

Social: Offering opportunities for relationships to form and mature.
Our "Tuesday Morning Group" meets regularly on Tuesdays at 10:00 am at The River where they continue 'growing together' through Bible Studies, sharing their life stories, sharing their prayer needs and praying for one another. This group also supports outreach opportunities and participates in social events.
If you have any questions contact Liz Morrrow at
"Together is Better"
Sierra Nevada Sisterhood met on Saturday, May 20th at Crosswinds AG where approximately 140 women from our district came together to worship, be challenged and encouraged by our Guest Speaker, Debbie Heden with her message "Together is Better" as well as meeting many Sisters in Christ and developing new relationships within our District. The River had a dozen ladies blessed by attending this event.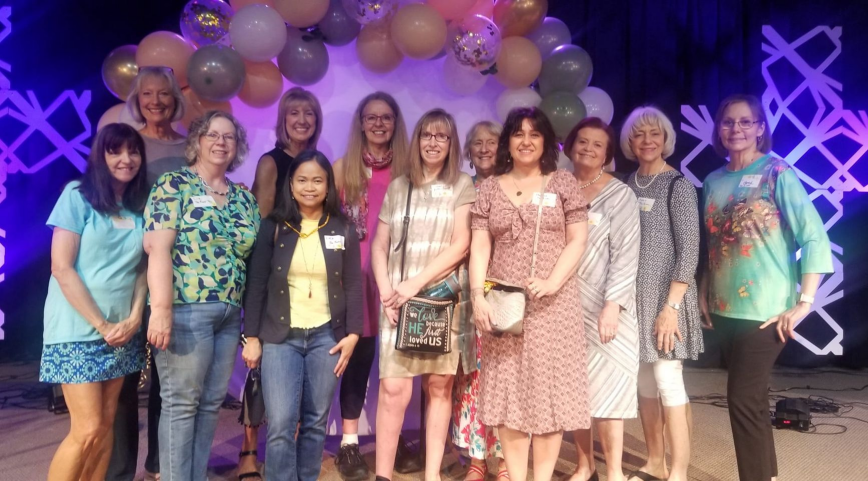 Fun event! Art time with Michele
took place here at the church . Stay tuned for more upcoming women's events!